Know Before You Go
Where you go for your care matters.
For most medical problems, you should go to your primary care provider first. You get the best care because they know you and your medical history.
If you are experiencing a medical emergency, please do not put off care. Please call 911, or go to your nearest emergency room.
Recently there has been a sharp increase in the number of patients being admitted to the emergency room and walk in clinics with respiratory illness and flu-like symptoms, including seasonal colds and flus, RSV, and other viruses, both in North Central Washington and across the country. Across the state, pediatric visits especially have increased dramatically, as has been announced by the CDC. Patients are encouraged to stay home when mildly or moderately ill or having symptoms, to drink plenty of fluids, and to contact their provider if their symptoms become worse.
You may not know when you should stay home vs. when you should visit your healthcare facility. Please view our guide below to help you choose the best place to go for healthcare.
A guide to help you choose the best place to go for healthcare.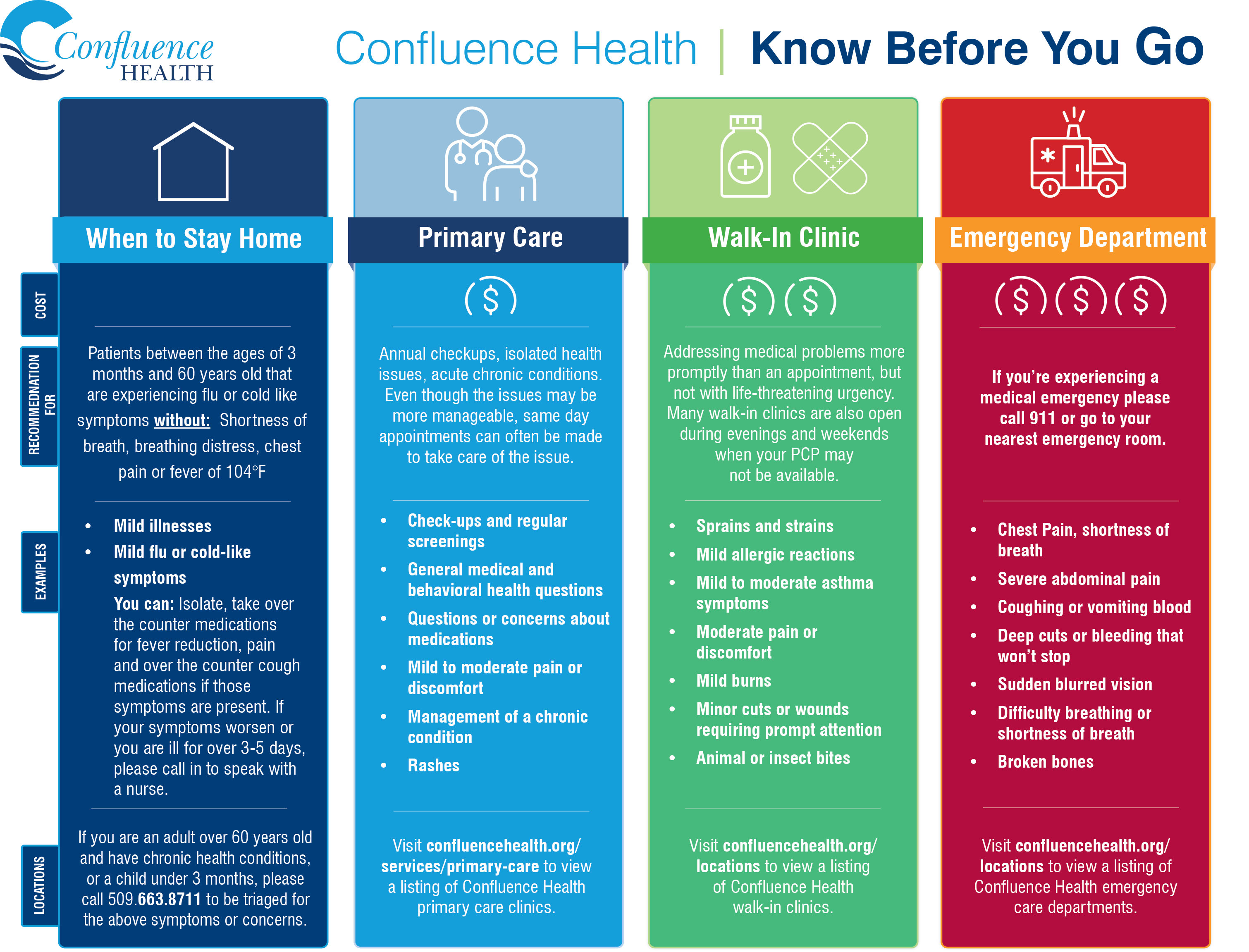 Where to go for care?
If your condition is NOT EMERGENT and you are unsure if it needs immediate attention, call your primary care provider or a health help line first, even after regular clinic hours.
After hours help line numbers:
Many insurance companies and hospitals have a 24/7 health hotline to help you decide where to go for care after hours.
Patients with the following health plans, may call the numbers listed below:
Health Alliance: 1-855-802-4612
You may also call the 24 hour on-call physicians at Confluence Health 1-800-726-8808
Providers from all specialties are available.
Walk-In Clinics:
Emergency Departments: