Care Options
If you're experiencing a life-threatening condition, call 911 right away.
---
* If you are currently taking opioids (including suboxone), benzodiazepines, stimulants, or Lyrica, please call 800-726-8808 to schedule a new patient appointment with a provider who can best meet your needs.
*Same/Next Day Clinic is designed for one-issue visits, no critical/emergent issues, and everyone is welcome.
---
Virtual Visits
You may now schedule an appointment to consult with a primary or specialty care provider via phone conversation or by video conference through your MyChart account or app.
To schedule a virtual visit, please send a message through MyChart at mychart.confluencehealth.org or call: 509.663.8711
Click here for more information
---
Walk-In Clinics
Confluence Health Walk-In clinics are available for all ages, when you can't wait for a regular visit with your primary care provider.
Click here for more information
---
Emergency Rooms
Available 24/7 for medical emergencies. If you are experiencing a medical emergency, please do not put off care. Please call 911, or go to your nearest emergency room. If you report to the emergency department for care, please note that regular emergency department charges will apply.
Click here for more information
Need help deciding which care is best for you? The information below may help, or call 509.663.8711.
*Please click the image to enlarge or print.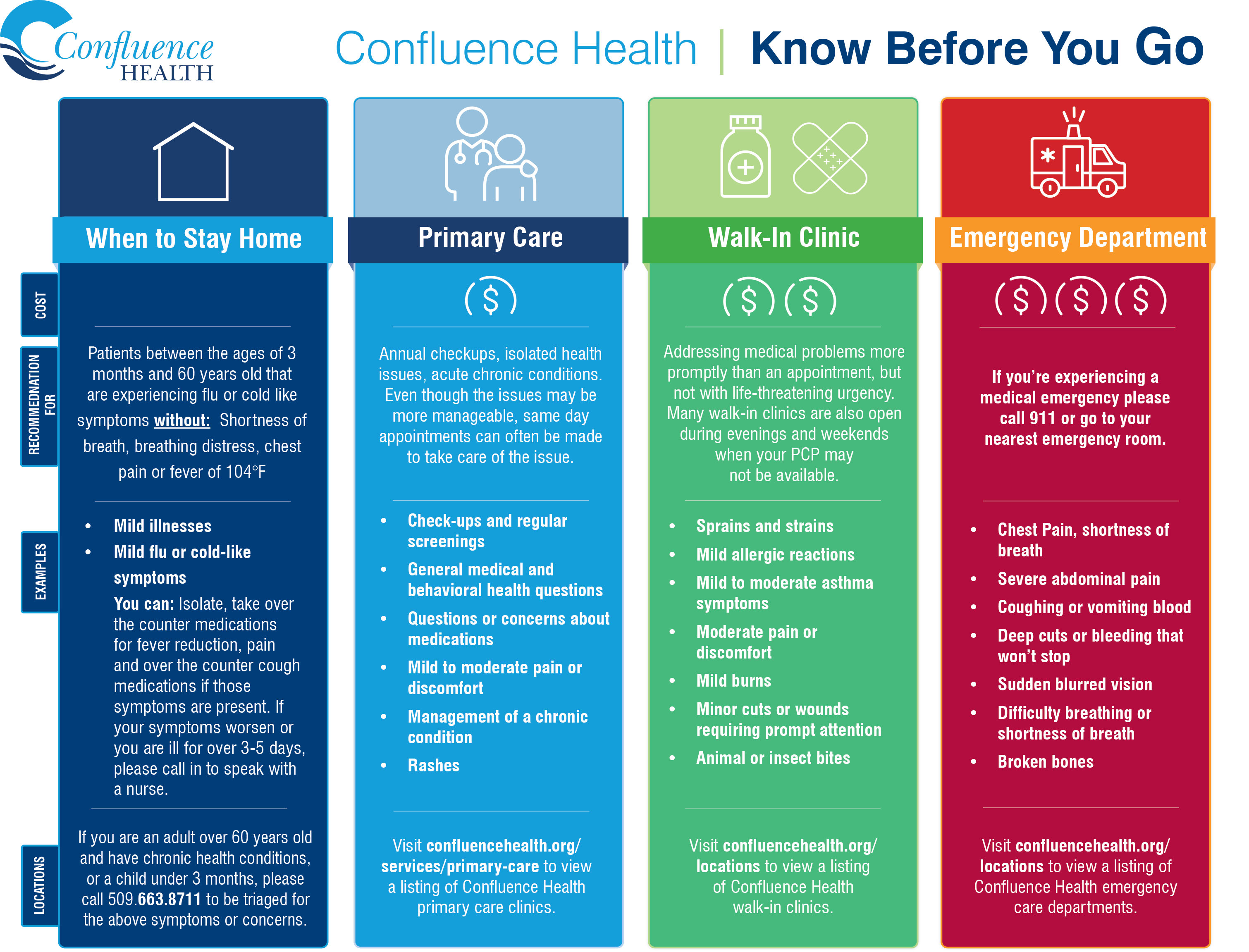 Going to the Emergency Room when you don't have a life-threatening injury or illness often means long wait times and high copays. If it's not an emergency, schedule a same-day or next day appointment with a Confluence Health primary care provider and enjoy lower copays.
For information about COVID-19 Testing please visit our COVID-19 Testing page.