Medicare: You and Your Options
Welcome to the Confluence Health Medicare page. We are excited to have you here.​ Our goal is ​to​ help you ​disc​over more about what Medicare is and​ what coverage options are available to you. We have included various informational videos, resources, general definitions, and important enrollment dates to help you navigate your Medicare. Please take a moment to explore more below.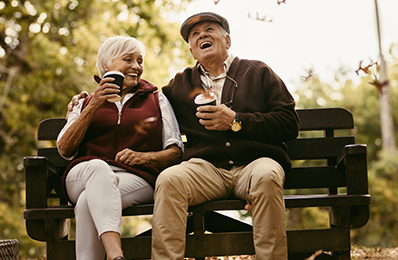 ​
What is Medicare?
Medicare is a federal health insurance program through the Centers for Medicare & Medicaid Services (CMS). The Social Security Administration started Medicare to help people pay for their health costs if they're 65 or older or have certain disabilities. It is mostly paid for by payroll taxes and premiums paid by Medicare beneficiaries.
Medicare has four parts.
Part A – Hospital Coverage (inpatient hospital stays, skilled nursing facilities, hospice, and some home health care)
Part B – Medical Coverage (doctor visits, outpatient care, and some home health care)
Part C – Medicare Advantage (from a private company and pays in place of Original Medicare)
Part D – Prescription Drug Coverage
Original Medicare (Parts A and B)
Original Medicare is the traditional Medicare program managed by the federal government. It includes Part A and Part B coverage but only covers about 80% of your healthcare costs. Original Medicare does not include coverage for prescription drugs (Part D plan). You should consider signing up for a separate Part D plan to ensure that you have coverage for your prescription drug needs.
Medicare Advantage (Part C)
Medicare Advantage combines all your coverage (doctor's visits, hospital, and pharmacy) into one plan, like the health plan you might have been used to while you were working. In addition, Medicare Advantage plans often cover services that Medicare doesn't cover like care coordination, health coaching, dental, vision, and hearing. Medicare Advantage plans have yearly limits to keep your out-of-pocket costs lower.
ADD Medicare Prescription Drug (Part D)

"Medicare Part D"

Medicare Supplement (Medigap)
Medicare Supplement plans help pay for the costs that Original Medicare doesn't pay for, like coinsurance, copayments, and deductibles. With
these plans, the government sets the rules, and the plans only cover services that Original Medicare covers. Medicare Supplement plan premiums
often increase with age. They also do not include coverage for prescription drugs (Part D plan). You should consider signing up for a separate Part
D plan to ensure that you have coverage for your prescription drug needs.
Things to Consider When Choosing a Medicare Plan:
Ensure you can continue to see your doctor
Review the formulary (drug list) to make sure your drugs are covered
Look at how your past healthcare costs line up with a plan. Consider if there is an opportunity to change plans to save money.
Look for additional plan perks, like health coaching and care coordination, fitness benefits, and more.
Check to see if you're eligible for Extra Help through Medicare.
Medicare Coverage Options: At a Glance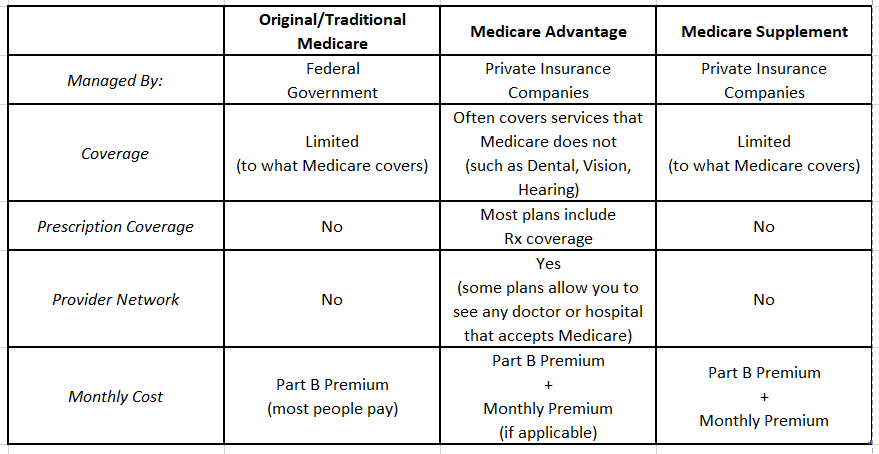 "Traditional Medicare vs. Medicare Advantage"

---
Enrolling in Medicare
Initial Enrollment Period
You have the three months before the month you turn 65, the month of your birthday and the three months after the month you turn 65 to enroll in a Medicare plan for the first time. So if your birthday is in April, you have a seven-month period from January through July to sign up.
Annual Enrollment Period (October 15-December 7)
The Annual Enrollment Period, or AEP, lasts from October 15 to December 7. During that time, you can enroll in a new plan or make changes to your plan, like switching to a different Medicare Advantage plan.
Special Enrollment Period
Outside AEP, you can only change plans in special situations, like if you move out of the service area or if your plan ends its contract.
Open Enrollment Period (January 1-March 31)
From January 1 to March 31, you can switch to Original Medicare and join a Medicare prescription drug plan, or you can switch to another Medicare Advantage plan.
Additional Resources
"Case Management and Care Coordination"

"Living with and Managing Chronic Conditions,"

Questions? Contact Kayla Flores at Kayla.Flores@confluencehealth.org