Endocrinology
Endocrine conditions are often complex and involve many systems within the body. Confluence Health endocrinologists are experts at diagnosing and treating a number of diseases and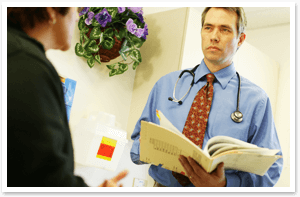 disorders, ranging from diabetes to thyroid disorders. A multi-disciplinary team of endocrinologists, diabetes educators, and dietitians provide medical management to patients that are at risk of developing complications or for those that require education and review of management.
An endocrinologist provides the following services related to diabetes treatment:
Conducts thorough medical evaluations of people with diabetes
Makes recommendations about treatment and diagnoses
Manages diabetes complications
People whose diabetes is out of control or especially hard to treat may benefit from seeing an endocrinologist.
Services:
Adrenal disorders
Calcium disorders/parathyroid disease
Clinical nutrition/nutrition support
Diabetes
Diabetes education program
Dyslipidemia
Endocrine hypertension
Hirsutism
Hypercalcemia
Hyperlipidemia
Hyperparathyroidism
Metabolism/Obesity
Osteoporosis
Thyroid disorder and nodules/fine needle aspiration arranged through radiology
Addison's disease
Bone disorders
Familial multiple endocrine neoplasia
Gestational diabetes
Goiter
High cholesterol
Osteomalacia
Resources
Related Providers Endocrinology