Brain Tumor Program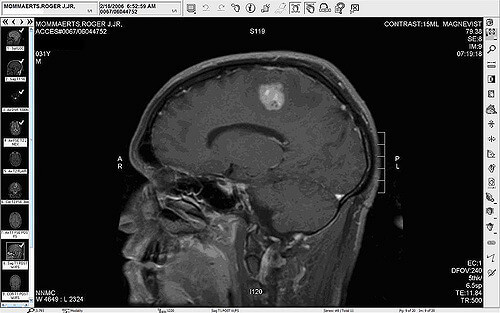 At Confluence Health, we have a multidisciplinary approach to brain tumor care. We offer the latest technology in neurosurgery and radiation oncology techniques to diagnose and treat cancers of the brain. Our technology and techniques include intra-operative stereotactic navigation, MRI guided stereotactic radiosurgery and the Optune device. At Confluence Health we care about providing superior brain tumor care close to home.
We provide a broad range of services for patients who have been diagnosed with brain tumors. This includes primary brain tumors which originate inside the brain, such as glioblastoma, as well as metastatic brain tumors, which originate outside the brain and then spread to it.
Our neurosurgeons perform brain tumor surgeries shortly after diagnosis. Intraoperative tools including stereotactic navigation for precise tumor localization and microscope use for careful tumor dissection are employed regularly. In addition, intraoperative electrodiagnostic brain mapping is used in cases where eloquent brain structures affecting motor and speech functions are at risk. In some cases, this involves brain surgery on awake patients to further increase the safety of the procedure. Finally, endoscopic procedures can sometimes be employed as a less invasive approach to surgery.
Brain tumors treated include:
Glioma
Glioblastoma
Meningioma
Astrocytoma
Oligodendroglioma
Metastases (tumors which started elsewhere and spread to the brain)
Ependymoma
Pituitary tumors
Astrocytoma
Procedures performed for brain tumors include:
Craniotomy for tumor resection
Awake craniotomy for tumor resection
Brain mapping
Intra-operative neuro-monitoring
Brain biopsy
Transsphenoidal surgery
Ommaya reservoir placement
Stereotactic navigation
Microscope use
Stereotactic radiosurgery
Once the pathologists have confirmed a diagnosis, patients are then treated by both medical oncologists and radiation oncologists as needed. Medical oncologists have access to all standard chemotherapy agents for the treatment of these tumors. We are affiliated with the Seattle Cancer Care Alliance which provides interested patients access to clinical trials as well. Outreach clinics in neighboring communities allow patients to see our oncologists even closer to home.
Radiation oncologists provide a range of treatment options, including localized fractionated therapy and whole brain radiation therapy. In some cases, stereotactic radiosurgery can be used as an effective alternative. This treatment is performed jointly with both the radiation oncology team and the neurosurgery team. It allows us to treat the tumor with a very high dose of radiation without delivering any significant dose to the normal surrounding brain. This significantly minimizes unwanted side effects.
In addition, some patients will be good candidates for a new and different way of treating cancer. Optune is a medical device which slows tumor growth by interfering in cell division using alternating electric fields. It is used at home, and full-time device support is available. Early trials have shown significant benefits from this new mode of tumor treatment. It is neither a medication nor a radiation treatment, and side-effects are uncommon and generally mild.
Complex brain tumor cases are discussed at tumor board meetings to obtain a consensus on the best management options. This involves medical oncologists, radiation oncologists, neurosurgeons, radiologists, and pathologists. The consensus decisions are then communicated to patients and the next steps in treatment are taken.
Finally, a full support team of physiatrists, physical therapists, and speech therapists are involved in the care of brain tumor patients. Many patients discover their tumors by developing a disability, and the recovery process is greatly improved and expedited by quality rehabilitation services.