Understanding My Bill
This statement describes charges for services rendered by providers (physicians and/or other health care professionals) at Confluence Health. If the services you receive are covered by insurance, your benefits will determine how much of the charge you will be required to pay out-of-pocket. Your Confluence Health statement will reflect details of your visit, your payment(s) and any amount still outstanding.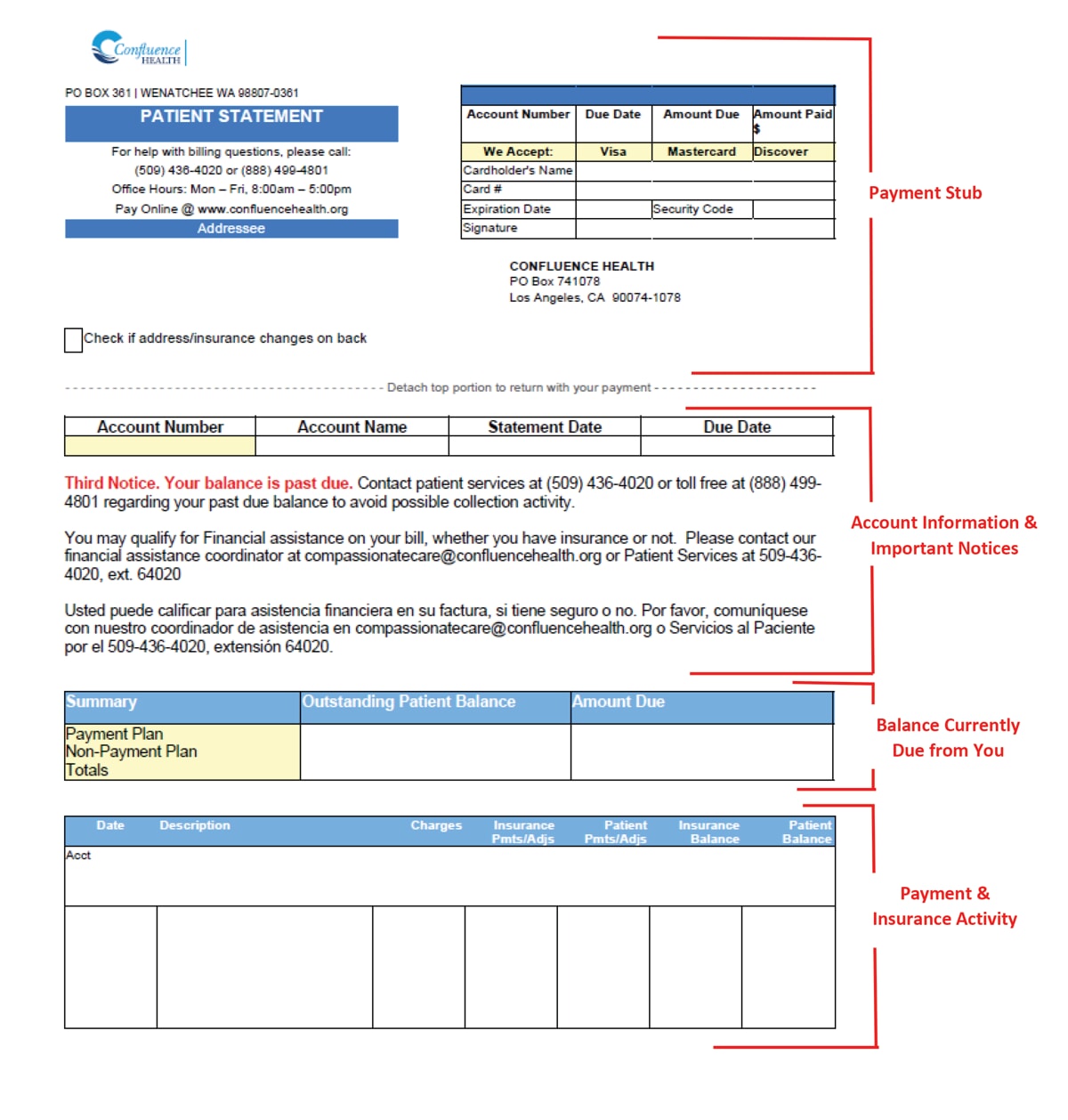 What is SBO?
SBO or Single Billing Office, is the billing system used at Confluence Health. SBO allows all your services to be billed on one statement, regardless if they are for inpatient or outpatient services. This results in faster, and easier customer service when you contact us with billing questions.
Payment Plans
At Confluence Health we understand that medical bills can cause unnecessary stress and financial strain. To help ease your worries we offer 4 payment plan options that are interest free. We also offer a 10% discount if the balance meets our payment plan guidelines and is set up on auto pay. For balances that exceed $12,000, or if you are unable to meet our inhouse payment plan criteria (4, 8, 12 or 18 months) we also offer the ClearBalance patient-friendly repayment option.
| Balance | $0-$1,200 | $1,201-$4,000 | $4001-$12,000 | >$12,001 |
| --- | --- | --- | --- | --- |
| 4 Month Plan | Up to $300.00 Monthly | Up to $1000.00 Monthly | Up to $3000.00 Monthly | ClearBalance |
| 8 Month Plan | Up to $150.00 Monthly | Up to $500.00 Monthly | Up to $1500.00 Monthly | ClearBalance |
| 12 Month Plan | Up to $100.00 Monthly | Up to $333.00 Monthly | Up to $1000.00 Monthly | ClearBalance |
| 18 Month Plan | Up to 12 months only | Up to 222.00 Monthly | Up to 666.00 monthly | ClearBalance |
What is the ClearBalance Program?
Interest-free revolving credit account
No annual fees or prepayment penalties
ClearBalance doesn't impact your credit
Balance can be $250.00 or more to start
Making a payment is simple- 24 hours a day, 7 days a week. Pay by check, debit or credit card, via mail, phone or online at www.clearbalance.com.
How to Get Started:
Enrollment is easy and no application needed
All of your balances are combined into a single, easy to understand monthly statement.
Keep your family's medical bills simple by easily adding balances owed by a spouse or dependent(s).
Have questions about your statement? The ClearBalance multilingual, patient-friendly, customer service team is here to serve you.
Your Experience Matters!
Confluence Health and ClearBalance are committed to treating you with honesty, fairness and compassion. We want people to be able to afford the care they need.
Contact the Patient Financial Services Department for additional information at 509.436.4020 or toll-free at 888.499.4801