COVID-19 Vaccine Information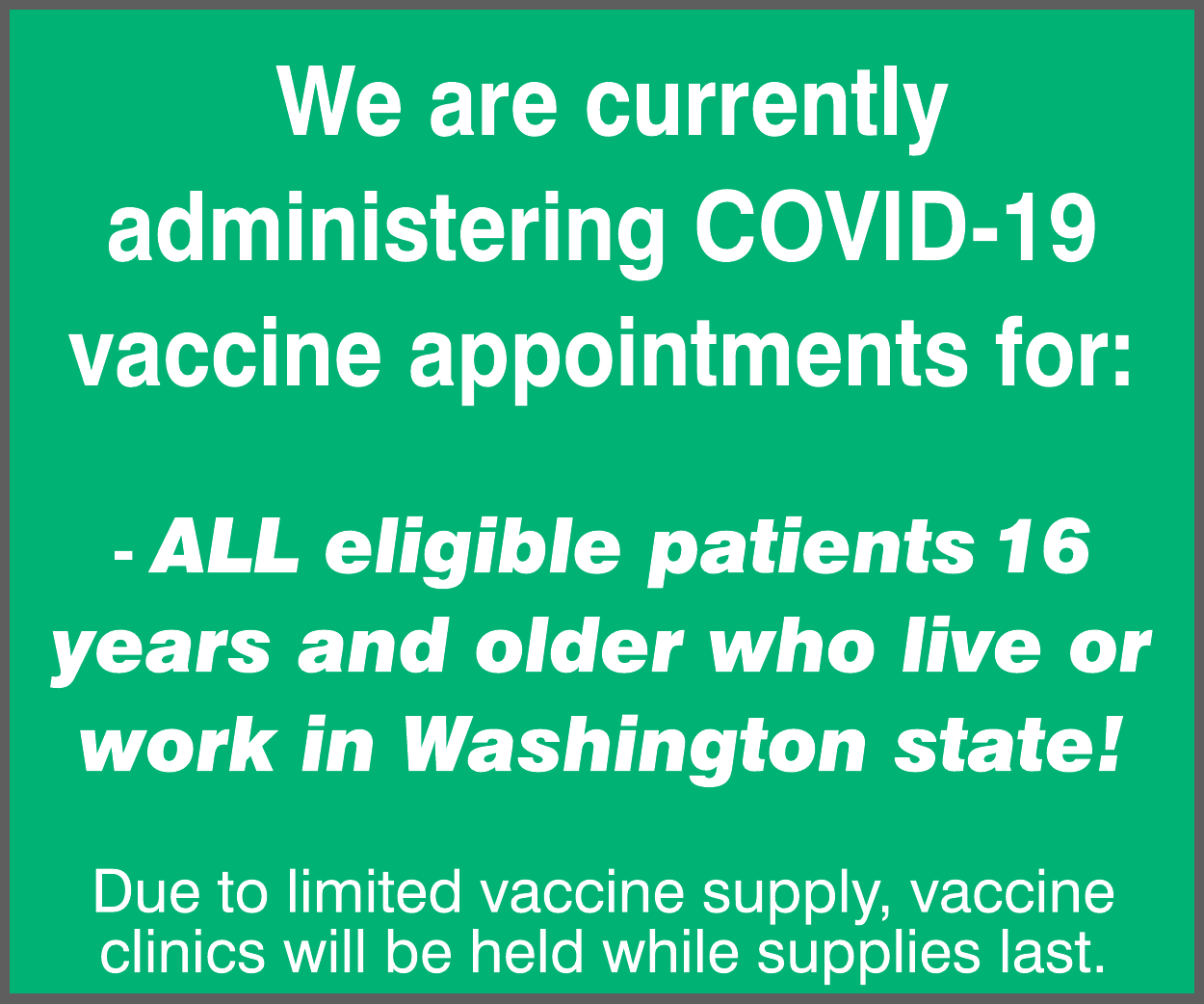 There is a lot of information on the internet and in the media about COVID-19 vaccines. Confluence Health is working with federal and state partners to finalize our vaccination plan, in alignment with parameters outlined by the Department of Health.
We invite you to visit this page often, as we update as new information becomes available, appointment information will be updated on Monday mornings.
This is a rapidly moving situation, here is what we know so far:
Updated March 31 – Status
We are currently administering COVID-19 vaccine appointments for eligible patients in Phase 1A, tier 1B, and 1B Tier 2, 3, and 4: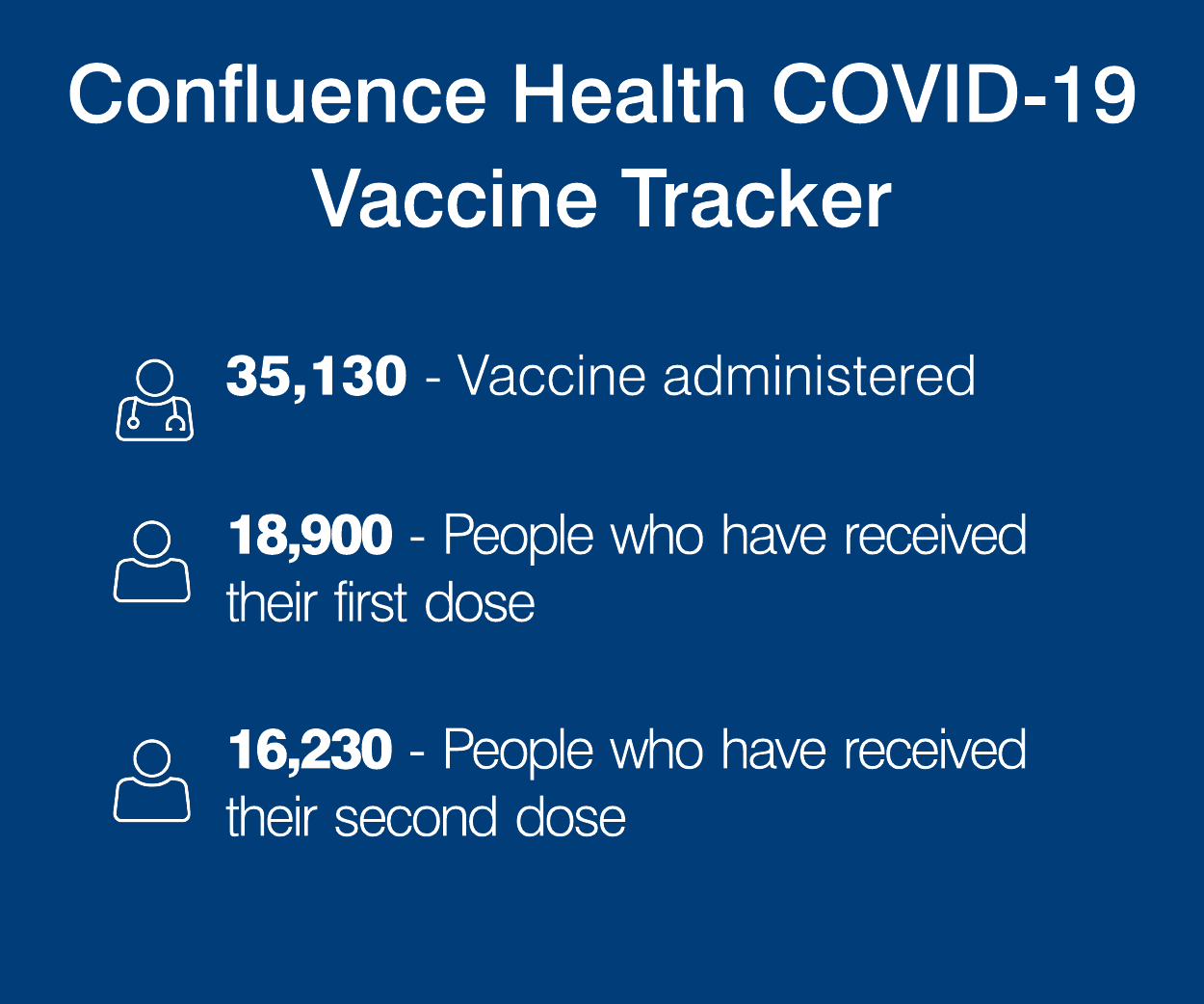 People 16 years or older with 2 or more co-morbidities or underlying conditions
All people 60 years and older
People, staff, and volunteers in certain congregate living settings: correctional facilities; group homes for people with disabilities; settings where people experiencing homelessness live or access services
High-risk critical workers* in certain congregate settings: agriculture, fishing vessel crews, food processing, grocery store/food bank, corrections (prisons, jails, detention centers), court of law, public transit, remaining first responders, restaurants, food services, construction, and manufacturing
People 16 years or older who are pregnant or have a disability that puts them at high risk for severe COVID-19 illness
All people 50 and older who live in a multigenerational household
All workers in health care settings
Educators and school staff for pre-kindergarten through 12th grade and child care workers
People who live or work in long-term care facilities
*Work in an enclosed space around other people and cannot maintain physical distance.

Patients are encouraged to reach out to Town Toyota Center for appointments:
Register for an appointment through PrepMod: https://prepmod.doh.wa.gov/clinic/search
OR
Register for an appointment by calling 1-800-525-0127

Experiencing language and/or technology issues? Please call our local bilingual assistance line: 509-715-3108

Please note: We will not be accepting walk-ins at our vaccination site. To schedule a vaccine appointment, please call our COVID hotline at 509.663.8711.

Vaccination Sites:

Wenatchee Valley
Central Washington Hospital & Clinics
1201 S. Miller St.
Wenatchee, WA 98801
509.663.8711
By Appointment Only
Grant County
Moses Lake Clinic
840 E. Hill Ave.
Moses Lake, WA 98837
509.764.6400
Clinic Hours:
Fridays - 3:00pm to 7:00pm
By Appointment Only
Okanogan County
Omak Clinic
916 Koala Drive
Omak, WA 98841
866.458.0169
Clinic Hours:
Wednesdays - 9:00am to 1:00pm
By Appointment Only

We anticipate large demand and long wait times. We also have a limited number of appointments available based on vaccine supply and vaccination site capacity. We appreciate your patience as you navigate the process and as we assess our ability to add more vaccination appointment times and locations.

Click here to visit the DOH website for FAQs and more information.

---

Alternative vaccine locations

The Department of Health provides a list of organizations offering the vaccine to eligible patients. Inventory varies daily and the organizations listed may or may not have vaccines.

---

While this is still tentative, here is what Confluence Health expects:

FAQs:

Washington will open COVID-19 vaccine eligibility to those who qualify under Phases 1B tier 3 and/or 1B tier 4. This expansion is estimated to begin March 31 and will add about 2 million people to the roughly 3 million currently eligible for vaccine. This includes people 16 years or older with two or more co-morbidities or underlying conditions, people age 60 and older, people, staff and volunteers in certain congregate living settings, and high-risk critical workers in certain congregate settings. For a detailed list of who is eligible please refer to DOH's vaccine allocation and prioritization guidance document. If you need help finding a place to get your COVID-19 vaccine, the state's new and improved Vaccine Locator website is a great resource. Within the last week, the site has helped more than 400,000 people find vaccine locations near them. Those who need further help can call the COVID-19 Information Hotline at 1-800-525-0127, then press #. Language assistance is available.

1B (Tier 1)

•All people 65 years and older

• People 50 years and older who live in multigenerational households

• PreK-12 educators, and school staff

• Licensed childcare workers

1B (Tier 2)

• High-risk critical workers 50 years and older who work in congregate settings:

- Agriculture;food processing; grocery stores; K-12 (teachers and school staff); child care; corrections, prisons, jails, or detention facilities (staff); public transit; fire; law enforcement

•You are 16 years or older and are pregnant

•You are 16 year or older and have a disability that puts you at high risk for severe COVID-19 Illness

•You are a first responded who was not previously eligible

1B (Tier 3)

• People 16 years or older with 2 or more co-morbidities or underlying condition

1B (Tier 4)

• High-risk critical workers in congregate settings under 50 years old

• People, staff, and volunteers of all ages in congregate living settings:

- Correctional facilities; group homes for people with disabilities; shelters for people experiencing homelessness

To find out when you can get the vaccine, use the Phase Finder Tool If you have additional questions, please visit www.CovidVaccineWA.org or email covid.vaccine@doh.wa.gov.

• COVID-19 can cause severe medical complications and lead to death in some people. There is no way to know how COVID-19 will affect you. If you get COVID-19, you could spread the disease to family, friends and others around you.

• Getting a COVID-19 vaccine can help protect you by creating an immune response in your body without your having to become sick with COVID-19.

• A COVID-19 vaccine might prevent you from getting COVID-19. Or, if you get COVID-19, the vaccine might keep you from becoming seriously ill or from developing serious complications.

• Getting vaccinated also might help protect people around you from COVID-19, particularly people at increased risk of severe illness from COVID-19.

At this time, the U.S. Advisory Committee on Immunization Practices acknowledges that there may be some unanticipated delays in second dose of COVID-19 vaccine due to limited supply. If you miss your appointment for your second shot at 21 days (for Pfizer vaccine) or 28 days (for Moderna vaccine), it is OK. Those marks are the earliest you can get the second shot. These mRNA COVID-19 vaccines demonstrate a detectable immune antibody response within 10-12 days after the first dose, so be reassured you are getting some protection against COVID-19 disease even after the first dose. But the second dose is required to generate an even more robust antibody response and to generate the longer-term memory immune response; this maximal vaccine protection is reached at 7 days after the second dose.

Please make an appointment as soon as possible after that time. It's important to make sure you get your second shot so you are fully protected and that both shots are the same kind. The second dose should be given as close to that time as possible. The second dose of Pfizer-BioNTech and Moderna COVID-19 vaccines may be scheduled up to 6 weeks (42 days) after the first dose. ted 1B might take up to 12 weeks as it encompasses 1.7 M Washingtonians.

Finally, please remember that while these vaccine are VERY protective against symptomatic COVID-19 disease, and are VERY protective against severe COVID-19 disease, no vaccine is 100% effective and until we have more convincing data that vaccination prevents asymptomatic transmission of infection and a large percentage of the population has been vaccinated, we should all continue to wear masks. In other words, your vaccination protects you, and your mask protects me.

When a vaccine for COVID-19 is available, we will not have enough at first to offer it to everyone. Eventually there will be enough vaccine for everyone who wants it.

Two federal groups are working on recommendations for vaccine prioritization:

- The National Academies of Sciences, Engineering, and Medicine
- The CDC's Advisory Committee on Immunization Practices (ACIP).

What we know for sure right now is that the first phase of vaccination, called 1a, will focus on pharmacies, clinics, and hospitals across Washington are still hard at work vaccinating people in phase 1a, tier 1 and tier 2. While phase 1a is still the immediate priority, the state has entered phase 1b, we anticipate large demand and long wait times. We also have a limited number of appointments available based on vaccine supply and vaccination site capacity. We appreciate your patience as you navigate the process and as we assess our ability to add more vaccination appointment times and locations. The State has indicated 1B might take up to 12 weeks as it encompasses 1.7 M Washingtonians.

Vaccines in phase 1a, tier 1 will be available for high-risk workers in health care settings and to residents and staff of long-term care facilities. We think up to 500,000 people in Washington will be eligible for the vaccine in this tier. We will update these numbers as we learn more.

• The simple answer is "YES" we will inform you. Once vaccine prioritization has occurred, we will push notifications informing you the vaccine is available.

• Until then, it is the goal of the Washington State Department of Health to enable everyone in the state to get vaccinated against COVID-19. Unfortunately, there is not enough vaccine at first to offer it to everyone. More vaccine is on its way, but it'll be a while before it's broadly available. At first, it's just going to people at highest risk. DOH will announce when we move into future phases. You can review the current phase eligibility here.

• At this time, patient cannot ask to be added to a waitlist.

You will be let in and screened for temperature and COVID-19 symptoms. If you have insurance, please bring your card with you. You may have a brief wait before it's your turn to be vaccinated. Receiving the shot is a quick process! Once you're done, we'll ask you to wait for 15-30 minutes to monitor you for any allergic reaction. The wait time depends on your known allergies and other health factors listed on your vaccine registration form. During the first appointment, we'll schedule your second dose. Please don't leave without scheduling your second COVID-19 vaccination. Due to the timing and effectiveness of the vaccine, it's very important to not miss the second appointment. If you have no reaction to the vaccine during your designated wait time, you'll be cleared to leave.

Yes, the Advisory Committee on Immunization Practices (ACIP) recommends anyone who previously had COVID-19 to get the vaccine.

People who were recently infected with COVID-19 can choose to wait 90 days after their illness before getting vaccinated. Data suggests that it may be uncommon to get reinfected with COVID-19 in the 90 days after infection.

People who currently have COVID-19 should wait to get vaccinated until they feel better and their isolation period is finished, if possible.

People who were recently exposed to COVID-19 should also wait to get the vaccine until after their quarantine period, if they can safely quarantine away from other people. If there is a high risk they could infect others, they may be vaccinated during their quarantine period to prevent spreading the disease.

For most people, getting the COVID-19 vaccine as soon as possible is the safest choice. However, the Pfizer/BioNTech vaccine is not available to children under age 16 and those who have been confirmed to have COVID-19 in the last 90 days. The vaccines have also not been tested in pregnant and breastfeeding people yet. The information below will help you make an informed choice about whether to get an mRNA (Pfizer or Moderna) COVID vaccine while you are pregnant or trying to get pregnant.

• The American College of Obstetrics & Gynecology recommends as when pregnant individuals catch COVID they can get sicker and are more likely to wind up on ventilators than non-pregnant individuals.

• Current authorized vaccines have been shown to offer 95% protection from infection.

• Though vaccine trials did not include pregnant individuals, animal trials showed no ill effects on pregnant animals or their offspring

• mRNA vaccines is not transferred to the baby through the placenta, do not alter human DNA and cannot cause any genetic changes

• Pregnant individuals are included in the vaccine prioritization and may choose to get the vaccine.

COVID-19 vaccination also might not be recommended for people with certain health conditions. While the vaccine is considered safe even in patients with immunocompromise, we don't yet know how effective it will be in this group. Talk to your doctor if you have questions about getting the vaccine. Also, if you have a history of allergic reactions, talk to your doctor before getting the vaccine.

There is limited data on the use of the vaccine for pregnant people. If you are pregnant or lactating and part of a group who is recommended to receive a COVID-19 vaccine (for example, health care personnel), you may choose to be vaccinated. You should discuss this with your health care provider to make an informed decision.

There is limited data on whether it is safe and effective to get either the Pfizer-BioNTech or Moderna vaccine with other vaccines. At this time, the COVID-19 vaccine should be given alone, at least 14 days (2 weeks) before or after you get any other type of vaccine.

No. The approved COVID-19 vaccines currently in the U.S. don't use the live virus that causes COVID-19. Keep in mind that it will take a few weeks for your body to build immunity after getting a COVID-19 vaccination. As a result, it's possible that you could become infected with the virus that causes COVID-19 just before or after being vaccinated.

Yes, even if you get vaccinated, we recommend you continue with the other prevention measures you've been doing, such as washing your hands, wearing a mask, staying six feet apart, and limiting gatherings. Many people in our state will need to wait months to get the vaccine, and masks and other prevention measures are still recommended to help prevent the spread of COVID-19 to people who are not yet vaccinated. We also want to remind you that it's not too late to get your flu vaccine.

The vaccine should not be given to people with a known history of a severe allergic reaction such as anaphylaxis to any component of the Pfizer-BioNTech COVID-19 Vaccine. People who have had a severe allergic reaction to any vaccine or injectable therapy (intramuscular, intravenous, or subcutaneous) may have a higher likelihood of reaction. This is not a contraindication to receiving the vaccine. They may receive the vaccine but should be observed for a minimum of 30 minutes following administration.

Scientists are using a decade of investment in vaccine science research to help develop the vaccine for COVID-19. Since we're in a pandemic, developing a new vaccine can go faster than normal. No steps are skipped, but some steps happen at the same time, like applications, trials, and manufacturing. Several COVID vaccines are being tested, as of November 2020. Each vaccine is going through more than one clinical trial. First with a small group of volunteers, then a couple hundred volunteers, then thousands of volunteers. After clinical trials, medical experts will examine test results and any side effects. If the vaccine works and is safe, it will get approved for distribution to the public. Washington state has joined other western states to do an additional expert review of the clinical trials results to make sure the vaccine is ready for distribution.

*Information provided from DOH website

Understanding COVID-19 Vaccine:

---

VISIT OUR "COVID-19 - WHAT YOU NEED TO KNOW" PAGE FOR MORE COVID RELATED INFORMATION

---