Supporting our Community - Community Donations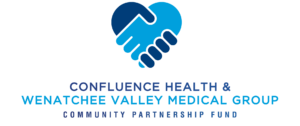 We believe in community and supporting a variety of causes and organizations in Chelan, Douglas, Grant, and Okanogan counties each year. Our focus is on local programs from organizations and 501(c)(3) non-profit organizations that support Health and Wellness, Education, and Arts and Culture. If you are applying for a grant, we applaud your hard work and dedication to your local organization.
WVMG Community Donations
The WVMG Community Donation program is open to both for-profit and not-for-profit organizations seeking donations of $1,000 or less. You can apply any time, with awards determined quarterly at month end in March, June, September, and December.

Organizations will be considered for causes that:
Are consistent with our focus of Health and Wellness, Education, and Arts and Culture.
Promote education, especially events targeting math and science education.
Have a significant benefit to the community.
Involve participation by employees/physicians and/or their families.
Drive positive economic impact in our community.
Examples of requests that have been declined in the past:
Sole religious focus.
Wine-centric events.
Beauty pageants.
Individuals & personal initiatives.
Large, national organizations that may not have local beneficiaries.
---
Questions?
If you have questions, please email SM_CommunitySupport@confluencehealth.org
---