Prescription Drug Take-Back Program
The National Prescription Drug Take-Back Program aims to provide a safe, convenient, and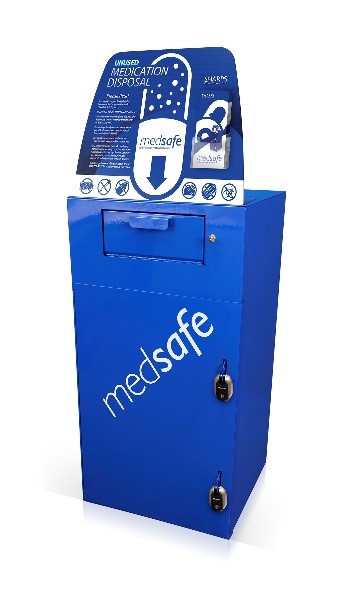 responsible means of disposing of prescription drugs, while also educating the general public about the potential for abuse of medications.
Protect our kids, families and the environment by properly disposing of your unwanted and expired medicines. Medicines in the home are a leading cause of accidental poisoning and flushed or trashed medicines can end up polluting our waters.
Experts agree. Take-back programs are the first choice for responsible disposable of medications. Law enforcement, public health, and environmental professionals stand united in support of take-back programs, as the safest and most responsible way to dispose of unwanted and expired medicines.
No questions asked. You won't be questioned about the medications you are returning.
It's free. There is no cost to return your medications at any of our locations.
For the safe and anonymous disposal of unused or expired medicines and controlled substances. Confluence Health MedSafe® drug collection and disposal receptacles are now located at the following locations:
Confluence Health | Wenatchee Valley and Clinics
820 N. Chelan Ave
Wenatchee, WA 98801
509.663.8711 Confluence Health | Confluence Health Hospital | Central Campus and Clinics (Professional Pharmacy)
1201 South Miller St
Wenatchee, WA 98801
509.662.1511 Doanes Pharmacy in Cashmere
119 Cottage Ave
Cashmere, WA 98815
509.782.2717 Cascade Medical Center in Leavenworth
817 Commercial St
Leavenworth, WA 98826
509.548.5815 Washington Valley pharmacy in East Wenatchee
636 Valley Mall Pkwy #7
East Wenatchee, WA 98802
509.888.7797 Lake Chelan Pharmacy in Chelan
219 East Johnson Ave
Chelan, WA 98816
509.682.2751 Moses Lake | Laketown Pharmacy
1550 S. Pioneer Way #105
Moses Lake, WA 98837
509.765.8891 Moses Lake | Southgate Pharmacy
2709 W Broadway Ave
Moses Lake, WA 98837
509.765.9332 Brewster Marketplace Pharmacy in Brewster
811 HWY 97
Brewster, WA 98815
509.689.2421 Omak Pharmacy in Omak
903 Engh Rd
Omak, WA 98841
509.422.1500 Lakeside Pharmacy in Oroville
1117 Main St
Oroville, WA 98844
509.476.4747