Confluence Health and Wenatchee Valley Medical Group Community Partnership Fund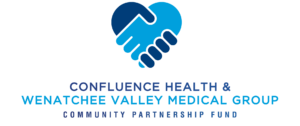 We believe in community and support a variety of causes and organizations in Chelan, Douglas, Grant, and Okanogan counties each year. Our focus is on local programs from 501(c)(3) non-profit organizations that support Health and Wellness, Education, and Arts and Culture. This focus enables us to partner with local organizations to make a positive impact within our community.
Grants for 501(c)(3) non-profit organizations will be considered for causes that:
Are consistent with our focus of Health and Wellness, Education, and Arts and Culture.
Promote education, especially events targeting math and science education.
Have a significant benefit to the community.
Involve participation by employees/physicians and/or their families.
Drive positive economic impact in our community.
Examples of requests that have been declined in the past:
Sole religious focus.
Wine-centric events.
Beauty pageants.
Individuals & personal initiatives.
Large, national organizations that may not have local beneficiaries.
Our Community Partnership Fund Committee is responsible for reviewing grant applications and determining which organizations we will support. If you are applying for a grant, we applaud your hard work and dedication to your local organization. Like you, we are proud to be a supporter of the community. Our Community Partnership Fund will start accepting grant applications on June 1 with a deadline of June 30. Awards will be announced mid-August.

Are you an organization that provides support to the community but you are NOT a 501(c)(3)? If so, we have opportunities for small grants. These small grants will be awarded bi-monthly.

---
Questions?
If you have questions, please email SM_CommunitySupport@confluencehealth.org
---